On our tour we had a day off in Texas so we decided to record an acoustic version of Better Times. This is the second take and I think it turned out pretty well. Thrifty Astronaut on thrift store keyboard and Galaxies on ukeylele.
I had such an amazing time last week playing shows, meeting new people and sleeping in strange places. Thank you to everyone who came out to shows, fed us, and let us sleep on their floors. More touring will be happening soon. There will be videos emerging soon but for now here are some photos.
[miniflickr photoset_id=72157626965167764&sortby=date-taken-asc&per_page=100]
Yo dudes, I'm super stoked to get out on the road and do some shows. I'll mostly be in Texas for the next week so come on out if I'm in your area and say whats up. The complete list is right under this flyer or the upcoming shows page.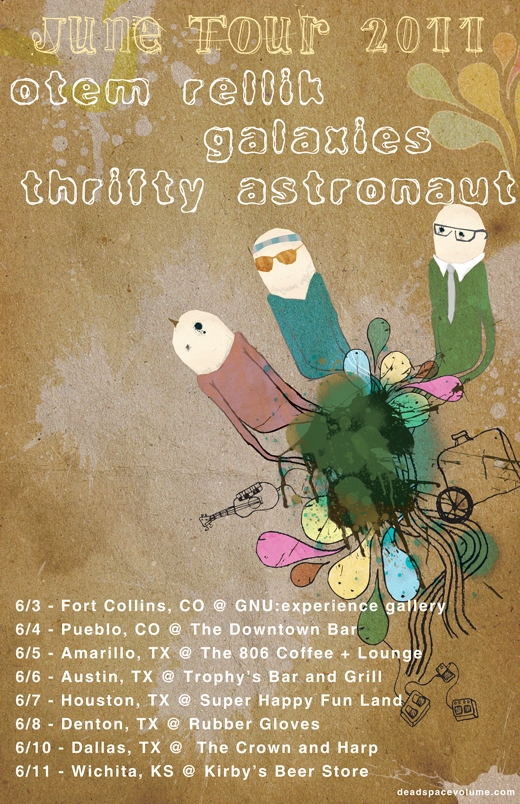 No shows booked at the moment.
I'll be honest, I'm not a big fan of Christmas music (or Christmas in general), so when I was first asked to do a Christmas song for Act So Big Forest four years ago I declined. When they asked me again the next year I said fuck it and made an instrumental track that I ended up being really happy with. Since then I've been on board with these Christmas compilations and have been really enjoying making music for them. I'm usually in a bit of a musical rut this time of year and it's a nice break from working on my more serious stuff and just do something fun musically. This year my song on the compilation is called When the Dark Goes Away and is sort of about the magic of Christmas fading away as one gets older. I wrote and recorded the entire song in one day and am really happy with it. Plus is has a vocoder. Download this bad boy and have a great Christmas.