Hello everyone. Today Danielle and I are internet premiering our new video for the collaborative track "Structural Integrity". I was supposed to upload this at noon but I was totally watching Avatar in 3D like whoa. We filmed this on August 17th in my basement and backyard. I'm super stoked on how it turned out. Check it out and be sure to check out Danielle's new album, "Two Bedroom Apartment" out now!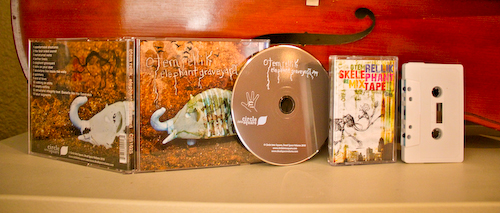 The wait is finally over! Pick up Elephant Graveyard today at Circle Into Square! Also grab the Skelephant ReMixTape on cassette for free while supplies last (they have 25 copies).
Also, Here is another stop motion music video I created last year for the song Walking On Stilts.

Lastly, I'll be playing an open mic tonight at Avogadro's Number in Fort Collins to celebrate the release. I'm not sure what slot I'll get to play, but I'll be posting it up on my facebook page as soon as I know.
Spread the word~tell a friend about my music, post it on the nets, request me from your local college station! Everything helps! Thank you to all the people who have supported my music, you folks are fantastic.
Today my Empty Coffins video gets its internet premiere! I'm really excited as I am extremely happy with the way this one turned out. I shot and edited this video in January with lots of construction paper, a blue trash bag, cotton balls, baby doll parts, styrofoam peanuts, dead grass from my yard, and a bunch of other random stuff. It took over 1,400 photographs and countless hours to complete. I also built a custom remote (pictured below) for the shutter to make things a little easier. Anywho, enjoy, and as always, I encourage you to share this video wherever you see fit.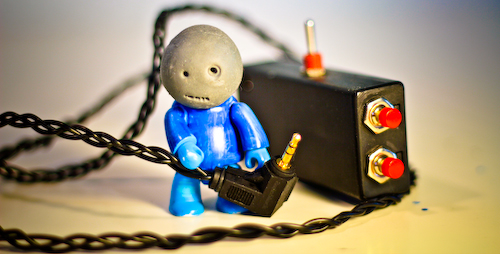 I'm super stoked to announce these two release shows! I'll be showing a few videos at the Fort Collins show and hopefully playing Structural Integrity with Danielle Ate the Sandwich. Awesomeness.