This week I'm uploading Comfortable Creatures, which is the first track on the album. This was sort of my obligatory tough guy hip hop song with horns. Here is the deal with this upload: if anyone can guess where the horn sample came from they will win a free copy of Elephant Graveyard, the Skelephant ReMixTape, and a shirt of their choosing from the store page. I'm really doubting anyone will be able to get this so I'm hoping someone will prove me wrong. And please, if I know you and have already told you don't post up the answer. If no one gets it I'll start dropping clues. The first clue is that its from a 1972 film.

Good morning. Today I decided to upload a video performance in addition to my weekly song upload. The Four Sided Secret was the first song I recorded for Elephant Graveyard and by far the oldest unreleased song I have. It was recorded in January of 2007 before I went on my European tour. It was also the first song I ever played electric guitar on.  I think it still holds up though as one of the most solid songs I have ever made. I think its the bass. Enjoy and remember to to follow me on the facebooks.
Today my Empty Coffins video gets its internet premiere! I'm really excited as I am extremely happy with the way this one turned out. I shot and edited this video in January with lots of construction paper, a blue trash bag, cotton balls, baby doll parts, styrofoam peanuts, dead grass from my yard, and a bunch of other random stuff. It took over 1,400 photographs and countless hours to complete. I also built a custom remote (pictured below) for the shutter to make things a little easier. Anywho, enjoy, and as always, I encourage you to share this video wherever you see fit.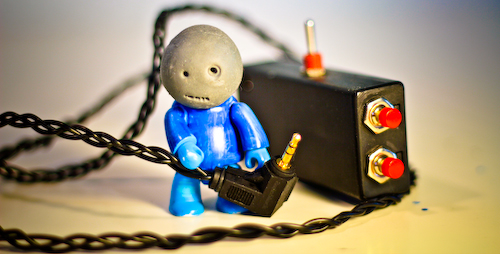 I'm super stoked to announce these two release shows! I'll be showing a few videos at the Fort Collins show and hopefully playing Structural Integrity with Danielle Ate the Sandwich. Awesomeness.