Hey whats up everyone. Just thought I'd do a quick post about a keyboard that is now available on the store page. It's a super fun and noisy little instrument with lots of possibilities. I only have one available, so if you are interested  jump on it fast.
mr. noisy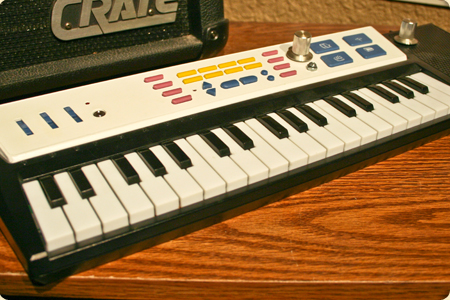 Tons of noisy sounds in a cheap plastic keyboard. This little guy can generate some very interesting distortion sweeps and an endless combination of sounds. Great for making some lo fi bedroom pop jingles.
Features
1/4″ output
pitch knob
pitch body contact
distortion sweep knob
distortion/noise generator toggle switch
custom paint job
$50
SOLD
Act So Big Forest is a record label and group of friends of mine that do a Christmas compilation album every year amongst lots of other awesome releases. Ive been on the last two and you can download the latest: Sun Child, Stay Forever in its entirety right here!
Quick update. As I rarely play Denver I thought I'd mention here that I will be playing Denver at Kazmos on the 11th.

This is a short video of stills taken over the two week process of building my studio. Big thanks to my brother Derek who did 90% of the work…I mostly just handed him tools. It looks great though and I'm damn happy! The song is empty coffins from my forthcoming album elephant graveyard.