Last night I started a sound sculpture. This is the prototype that I finished today. I think the final will look a lot like this but will be hand painted and fancy. Anywho, here is a video.
Hello everyone. I recently got bored with my site again and decided it was time for an update. Things have been moved, things have been changed, but for the most part everything is still here. I removed some sold instruments and don't think I'm going to be doing the bleep and bloop boxes anymore (unless someone really wants one). But yeah, took me a shit load of time but I'm super stoked on how it turned out.
More personal stuffs-I got my first tattoo! You may recognize this little dude if you have ever bought an album from me or visited this site you are currently visiting. The dead space volume guy was just a doodle I did on a break from work many years ago. I never really thought of it as a super great drawing but something about it really resonated with the way I feel about my music and life.
Also, I'm making some dance songs lately…not exactly sure why, it's just happening and I kind of like it. So perhaps after Elephant Graveyard comes out I may have some sort of dance ep or something…maybe.
So my friend Josh is putting on this super cool monthly circuit bending event in Denver. Here are the details.
Anywho, I'm the featured artist this month!  I'm bummed that I can't make the workshop because of work, but I'm still going to rock some rap jams! You should definitely come!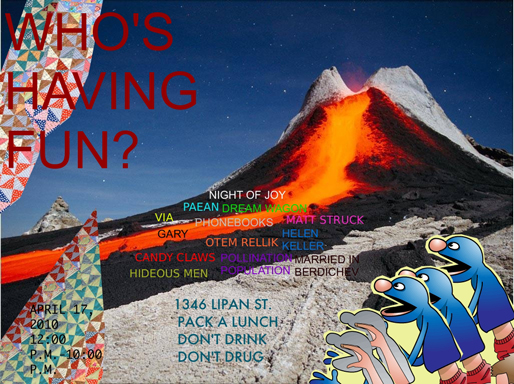 This should be a rad event! This is a community building event with no drugs or alcohol meant to bring people together to have a lot of fun!
12: 00 = HELEN KELLER
12:45 = PAEAN
1:30 = MATT STRUCK
2:15 = VIA
3:00 = PHONEBOOKS
3:45 = GARY BURDEN AND FRIENDS (Comedy)
4:45= DREAM WAGON
5:30 = OTEM RELLIK
6:15 = NIGHT OF JOY
7:00 = MARRIED IN BERDICHEV
7:45 = CANDY CLAWS
8:30 = POLLINATION POPULATION
9:15= HIDEOUS MEN