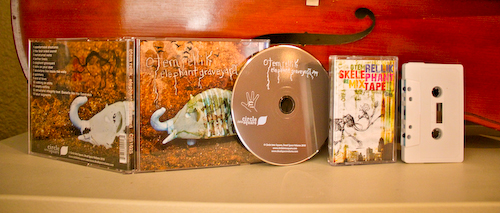 The wait is finally over! Pick up Elephant Graveyard today at Circle Into Square! Also grab the Skelephant ReMixTape on cassette for free while supplies last (they have 25 copies).
Also, Here is another stop motion music video I created last year for the song Walking On Stilts.

Lastly, I'll be playing an open mic tonight at Avogadro's Number in Fort Collins to celebrate the release. I'm not sure what slot I'll get to play, but I'll be posting it up on my facebook page as soon as I know.
Spread the word~tell a friend about my music, post it on the nets, request me from your local college station! Everything helps! Thank you to all the people who have supported my music, you folks are fantastic.